Title: Dawn of the Emperors
Code: None
TSR No.: 1037
Product Line: Mystara/Known World
Type of Product: Sourcebook (Gazetteer)
Primary Credits: Aaron Allston
Release Date: 1989
Cover Price: $18.00
Components: DM's Sourcebook (128 page book), Player's Guide to Thyatis (32 page book), Player's Guide to Alphatia (32 page book), two double-sided poster maps
New spells: bleach, colour, climate, create air, clothwall, fabricate [fabricate], woodwall, disguise, stonewall [wall of stone], ironwall [wall of iron], duel-shield, impersonate, steelwall, sleep-curse
[NB: This book was published for D&D. Certain spells were introduced that already have equivalents in AD&D and 3E. Where these appear, the rough AD&D equivalent has been added in brackets]
New magical items: None, but contains D&D rules for magic item creation
New creatures: Pegataur, Silk-spider, Zzonga bush
Description: Although concentrating mainly on the Mystaran empires of Thyatis and Alphatia, information is provided for the Thyatian duchy of Ochalea - an island realm of Japanese/Chinese influence. Character generation information for Ochaleans is also provided. This is of little interest to players in OA campaigns, unless they wish to introduce OA elements into a Mystara campaign or simply want to look at another way of incorporating Oriental elements into an existing campaign. More information regarding Ochalea can also be found within the three Poor Wizard's Almanac books (AC1010, AC1011, and AC1012).
Contributed by: Ian R. Malcomson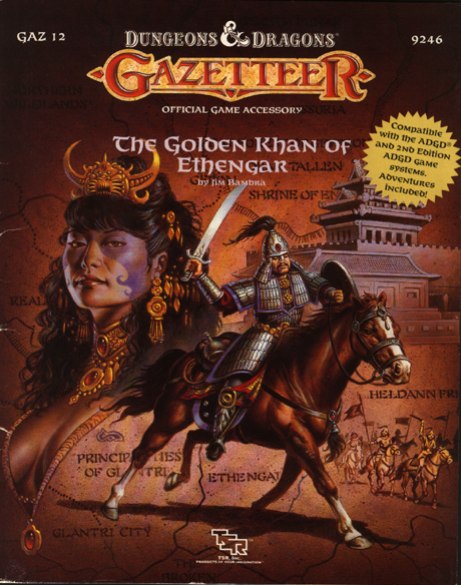 Title: The Golden Khan of Ethengar
Code: GAZ12
TSR No.: 9246
Product Line: Mystara (the Know World)
Type of Product: Sourcebook (Gazetteer)
Primary Credits: Jim Bambra
Release Date: 1989
Cover Price: $9.95
Components: A 64 page DMs book, a 32 page Player's book, cardstock 3-panel cover, poster map of the region including arms & armour diagrams
New spells: Renew [mending], feat [hero's feast], detect lie [detect lie], wind blast [gust of wind], lie [undetectable lie], command word [command], detect poison [detect poison], fellowship, pass without trace [pass without trace], trance, shimmer, spirit sending, detect curse [detect curse], hold spirit, invisibility to spirits, silent move, fate, summon herd, summon lesser animal spirits, vigour, commune with spirit lord, confound, spirit walk, strength of mind, sword of fire [flame blade], madness [insanity], spell turning [spell turning], summon greater animal spirit
[NB: This book was published for D&D. Certain spells were introduced that already have equivalents in AD&D and 3E. Where these appear, the rough AD&D equivalent has been added in brackets]
New magical items: None
New creatures: Animal spirits, greater animal spirits, spirit lords, evil spirits, nature spirits, undead spirits,
Description: This gazetteer deals with the Mongol-like people of Mystara. Although some of the source is Mystara-specific, a lot of it is only specific to the pseudo-culture being described (i.e., Mongols), and as such is applicable to any campaign using them (e.g., the Tuigan of the Realms). Of particular interest are details on culture and language (including a name list), shamans (which can be adapted fairly easily), and Mongol-like settlements and tactics.
Contributed by: Ian R. Malcomson